Olympic Curl Bar
Essential for upper body workouts, this bar has an ergonomic shape to ease tension on the wrists. Let your elbows and wrists stay in a more natural position while you target those biceps, shoulders, triceps, and back!
Length: 47 1/8"
Knurled hand grips: 7 1/2"
Weight Space: 6 1/2"
2" loading sleeve diameter
Capacity: 300LB
Product weight: 20LB
Customer Reviews
Write a Review
Ask a Question
07/07/2021
Lydia K.

United States
Excellent value
It's perfect for my home gym - I'm never going to need the full olympic bar so this saves me money and space. It's super sturdy and has no problem with the 150lbs I've put on it so far.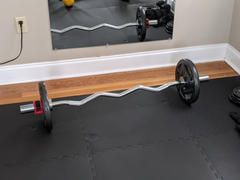 03/23/2021
ZAHEER B.

United States
Olympic curl bar
Perfect, a commercial bar for at home use, at a great price.
03/06/2021
Michael c.

United States
Great bar
I previously had one of those curl bars that have the spin on caps which is ok, but if you're serious about your home gym it doesn't have the flexibility of being able to utilize Olympic plates. Also, the ends on the spin-on curl bars do not spin which causes bad form for your wrists. The Epic curl bar, however, offers the flexibility of Olympic plates and the ends spin as it should so that it doesn't cause unnecessary fatigue on your wrists. The quality and workmanship of the bar top notch, just as if it was from a commercial gym. I would definitely recommend purchasing this bar.